Three-week supply: Why this family stocked up on emergency supplies
"Wise Advice, Emergency Stock": This old Federal adage is gaining relevance today. Sebastian Krause and his partner Jasmine Kretz let a glimpse into the air raid shelter.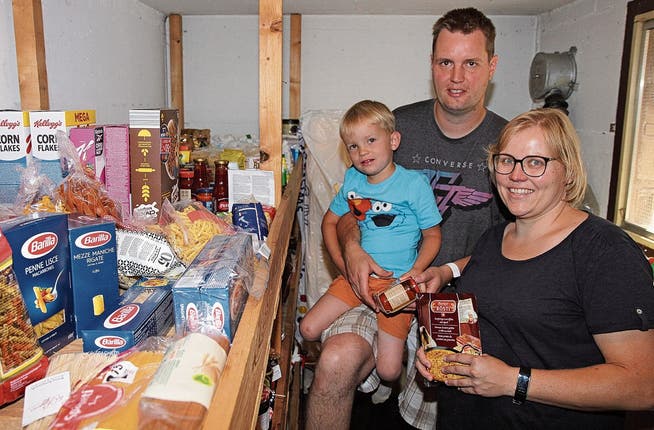 The corona crisis has made many people realize how important it is to have your own supplies for emergencies. Whether in the event of a power outage or other crisis situations – in such situations it is essential to be able to take care of yourself independently.
We wanted to see if our readers also had emergency supplies at home. Sebastian Krause and partner Jasmine Kretz take a look at the air raid shelter.
Own vegetables and fruits from the garden
"No, we are not preparing for war," says Sebastian Krause. The 37-year-old Berliner lives with his partner Jasmine Kretz and their four-year-old son Simon in Oberreit, in his parents' house. They grow various vegetables such as zucchini, tomatoes, beans, lettuce and berries in their large garden – they also have fruit trees; Apple, cherry and peach. So there's a lot to take care of yourself for a while.
In addition, the air raid shelter is well stocked with food. "With products from the freezer, we can definitely supply ourselves for three weeks without leaving the house," says Sebastian Krause.
The documentary provided the impetus
What prompted the young couple to stock up on emergency supplies? "Three years ago, the fictional documentary Blackout was shown on Swiss TV," says Jasmine Cretz. This showed the far-reaching consequences of blackouts. "It was then that I really realized how dependent we were on electricity," she says. Only when this is over do you realize the extent of the dependency. That's when I learned of the federal government's recommendations and started stocking up. Pasta, coffee, flour, canned vegetables, coffee powder, homemade apple juice, as well as wine. In the past, they would buy and stock more products during campaigns. Now it is more targeted. Water supplies are important. It is said that you can survive 30 days without food but only three days without water.
Buy wisely and store properly
"We don't want to live from hand to mouth," says Sebastian Krause. With supplies, he can always get something from the basement and make a meal. You can also save money if you buy products in time.
"When there were no toilet papers in stores at the beginning of the corona crisis, we just had to laugh because we already had our supplies," says Jasmine Kretz. You regularly check the expiration date of the products and replace them. We do not buy based on recommendations, but based on their personal needs. "We will get through a crisis situation without suffering too much," says Sebastian Krause with conviction. Gas bottles for your gas grill and gas heater will also replace lost electricity.