Data protection experts from heyData have results a data analysis published, which provides information about the monetary value of our personal data to major social media platforms.
Using information about revenue per user and average screen time, it was possible to determine how much Meta, Twitter, TikTok, YouTube and Snapchat platforms earn from a user per minute, hour, day, week, month and year.
Data for service generates billions in sales
Social media Achieving billions in sales from selling ad placements for the target group and commercial exploitation of the personal data of its users. This income is the result of a recent trade-off: in order to use the platform for free, we allow them to track our data and show us ads. We agree to this with confirmation of the terms of use in the General Terms and Conditions. The business model is worthwhile, as the balance sheets of major social media platforms show. Meta ended fiscal 2021 with $118 billion in revenue, TikTok generated more than $58 billion in revenue over the same period, and Twitter generated nearly $5 billion in revenue.
That's what our data is worth
Based on average daily screen time and revenue per user from quarterly and annual reports, the rough estimate shows the value of the tracked data we share every minute on social networks.

A minute of data tracking via Facebook or Instagram equals two cents
The data generated by the user over the course of a year has different values. It is crucial to decide which platform is tracking the data, as the comparison shows. In particular, social media leader Meta has mastered personal data marketing. After a year of tracking and average screen time, Meta can market the tracked data for around €200. No other platform examined comes close to these sales figures. The average user spends 33 minutes on Facebook and 29 minutes on Instagram every day. Meta earns about 2 cents for every minute you spend on the platforms.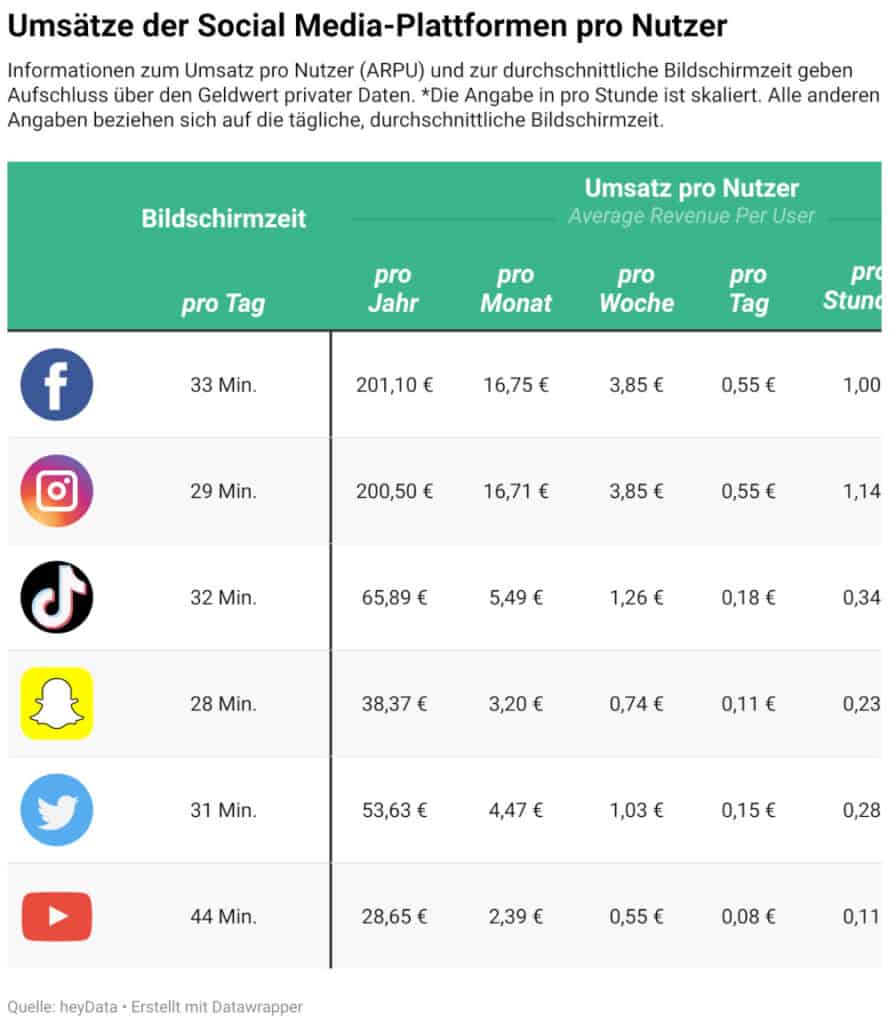 within a year tracked data It's worth about 66 euros for TikTok. The average user spends about 32 minutes per day on the Chinese company ByteDance's social video platform. TikTok generates about 34 cents in sales if users stay on the platform for an hour. Therefore, social network operators are doing everything they can to keep their users on the platform as long as possible.
Two minutes of screen time equals one cent of revenue from Twitter, TikTok, and Snapchat
For a dime a dozen, Twitter, TikTok, and Snapchat are required to keep their users on the platform for at least two minutes. YouTube takes up to five minutes of screen time to convert a dime. Although YouTube keeps the average user on its platform for 44 minutes per day, Google's video portal can only market the data it collects for about €29 per user per year. In the same period, Twitter generated about 54 euros in sales per user. On average, a megaphone spends 31 minutes a day on SMS and shares 15 cents worth of data.
www.heydata.eu