Bitcoin's energy consumption has been a hot topic of controversy since its original discovery. Founder Satoshi Nakamoto has already faced this topic. A recent report by crypto asset manager CoinShares provides an overview of the facts that are actually true.
bitcoin is peer-to-peer (p2p) which bring countless advantages. From censorship resistance and permissionlessness to transaction transparency, Bitcoin is superior to traditional networks in many respects. However, not everyone is convinced by the underlying technology. The point of contention is often criticized is the high power consumption of Proof of work– Algorithm used to generate new blocks. Especially at a time of increasing awareness of climate change and carbon dioxide consumption, Bitcoin's controversial climate equilibrium is a major hurdle for new businesses.
The origin of Bitcoin's energy consumption
In order to understand the energy consumption of bitcoin, a few things related to the network technology need to be clarified. Bitcoin is a decentralized network for the direct transfer of value. It uses blockchain technology to make the so-called Double spending prevent the problem. The underlying proof-of-work algorithm enables transactions to be verified without the presence of a third party, which prevents double spending in traditional systems. Network participants must solve specific cryptographic problems to validate transactions. Miners do this using dedicated computers that run 24/7 hash to calculate. This requires real resources (energy and computing power), which makes malicious network takeover very expensive.
As of December 2021, about 5 million devices are in use to verify transactions on the Bitcoin blockchain. after this Mining ban in China Although there was a brief recession of around 30-40%, the number of miners quickly recovered. As might be expected, newer computers are more efficient than older ones, creating a race for efficiency. As can be seen from the graph, this leads to an increase in network efficiency over the years.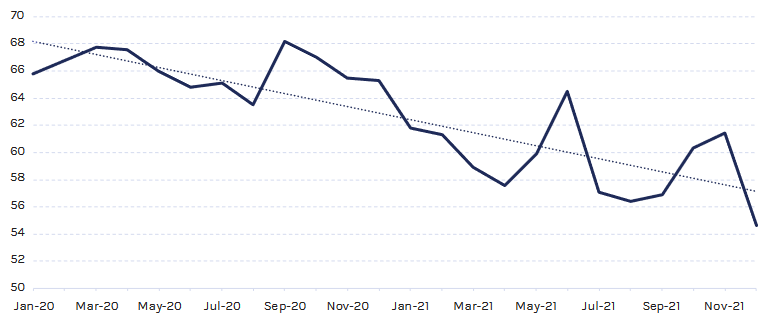 In fact, the chart is also related to the price of Bitcoin. When bitcoin prices rise, older, less efficient units — previously unprofitable due to increased mining competition — can become profitable again, allowing them to return to the network. Thus, the Bitcoin blockchain always finds a natural ground for the computing power that supports the network and protects it from malicious actors.
Bitcoin energy consumption in numbers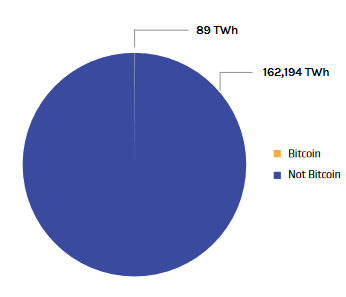 First goes CoinSharesReport on specific numbers. The energy consumption of Bitcoin is initially compared to the total energy consumption that occurs elsewhere. Bitcoin's annual average (as of December 2021) is 89 TWh (TWh). This is an insignificant part (about 0.05%) of global energy consumption.
Of course, for general Bitcoin critics, any energy consumption is a "waste", but the advantages of the Bitcoin network must not be forgotten. Millions of people are already using blockchain technology, and Bitcoin has the potential to empower countless people Third World countries Provide open access to a fair market. Thus, Bitcoin power consumption must be positioned in relation to the various qualities of the network.
cause carbon dioxide emissions
With a relatively low energy consumption compared to the rest of the world, it is easy to conclude that carbon dioxide emissions are also relatively small. The estimated carbon dioxide emissions from bitcoin mining were around 36 megatons of carbon dioxide in 2020 and 41 megatons in 2021. This equates to about 0.08% of annual emissions worldwide. Compared to the traditional financial sector, Bitcoin's balance sheet is not bad. Printing our fiat currency alone causes about 8 million tons annually, according to the report. Countless tall buildings, computer rooms and other carbon dioxide emissions of traditional banks have been excluded. Meanwhile, the gold industry emits an average of 100 to 145 million tons of carbon dioxide.
CoinShares is also mining 40 million tons of CO2 from the Bitcoin network to identify potential improvements. It soon becomes clear that carbon dioxide emissions can be significantly reduced by switching from coal on a large scale. Of all the energy sources currently powering the grid, coal provides between 35 and 50% of the energy. Other energy suppliers such as nuclear power (5 to 11%) or renewable energies (4 to 8%) such as hydropower are not used as much.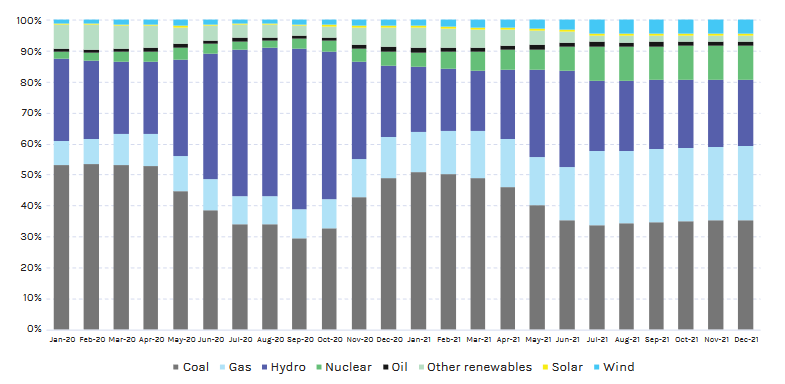 If this ratio of coal to alternative energy sources is improved, 40 million tons of emissions will also be rapidly reduced. In certain months, coal power alone causes over 90% of all carbon dioxide emissions from the bitcoin mining network. According to CoinShares, the "CO2 emissions" issue will no longer be an issue once some of the coal power is replaced by nuclear and renewable energies. After all, the percentage is already relatively small.
Bitcoin as future earnings
Back in the year 2010, shortly after the first transaction on the Bitcoin network, the inventor named Satoshi Nakamoto commented on a solution to the problem. It is the same situation as with gold and gold mining. The marginal cost of gold mining is usually close to the price of gold. Gold mining is "waste," but that waste is far less than the benefit of having gold as a medium of exchange.
"I think this will also be the case for Bitcoin. The benefits of the exchanges enabled by Bitcoin will far outweigh the cost of electricity consumption. Therefore, not having Bitcoin would be a waste." – Satoshi Nakamoto, founder of the Bitcoin network

Overall, CoinShares also came to the conclusion that the net benefits of bitcoin outweigh the drawbacks of electricity consumption. The entire system is the only way for hundreds of millions of people to access a fair, devalued and censorship-resistant cash network in the near future. In order to continue to do so, we must be willing to accept the relatively small percentage of additional emissions.