Sports and art

The first NFT series from EVZ is already sold out
On Monday, August 29th, EVZ celebrated its first NFT Drop – "Platinum EVZ Bulls". 67 NFTs have now been sold. Proceeds benefit EVZ's offspring and "hockey academy" coaching concept. A second series follows.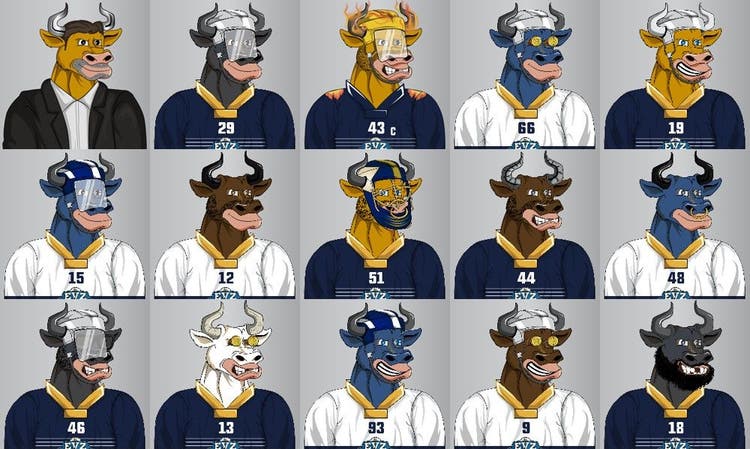 Sold out "ranks" and a cheerful atmosphere accompany the EVZ not only at the stadium, but also at SHED Zug on Monday evening. As part of the Inacta Innovation Circle, everything revolved around the capabilities and possibilities of coding in the sports sector, as stated in a statement from the EVZ.
The highlight was EVZ's NFT Platin Drop. The association launched this in collaboration with its partners Tokengate, Inacta and the newly founded EVZ sponsors association "Sixtyseven's" – with great success. According to the report, 67 NFTs were sold at $970 each within 24 hours. Proceeds go to the EVZ youth promotion.
For the future of young talent
Ibrahim Kahn (EVZ's Head of Marketing and Sales) put it this way in the letter: "EVZ is open and curious about the burgeoning blockchain technology. NFTs are growing in popularity and interest is growing, especially in the arts and media world. Meanwhile, NFTs are poised to invade the sports world as well. Now EVZ, as the first professional ice hockey club in Switzerland, is starting its own collection of NFTs to pioneer along this digitization path!I am particularly happy with the success of our first NFT series because it supports young talents at EVZ – EVZ with its distinctive coaching philosophy invests a lot in youth and in training Its players are convinced. There is hardly a better way to combine our coaching philosophy with the possibilities of blockchain technology."
Taurus EVZ in 67 unique copies
On Monday, August 29, EVZ opened a new chapter and its unmistakable brand, the Taurus, underwent a digital transformation. The first NFT series included 67 NFTs, each with a unique Bull EVZ — hence the name «EVZ Bulls».
In addition to the collector's value, each purchaser benefits from attractive additional services – such as an invitation to an EVZ party with first-team players on the SHED train, a unique EVZ Platinum token as well as future NFT airdrops.
The second drop is in the fall
After this first successful NFT Drop – the Platinum Drop – the NFT Gold Drop will follow this fall. Plus, after its first two exclusive and rare NFT Drops, EVZ is planning another big NFT drop towards Christmas, which, according to the press release, will have something for every budget. (Hazz)