Over the past year, a number of fundamental factors that were not there before have emerged in the digital asset industry. These aspects lead us to wonder if we are on the cusp of institutional Bitcoin adoption. Insight into the three most important variables.
One important factor is regulation, which determines the scope of action for the market. After China's recent ban on September 24, the world looked to the United States for clarification from regulators and lawmakers on their stance on cryptocurrency. Federal Reserve Chairman Jerome Powell was suspicious of digital assets, and incoming SEC chairman Gary Gensler seemed to take a similar stance at first. He has taken a cautious, noncommittal approach to how the SEC intends to deal with it.
1. US Regulation
Jerome Powell and Gary Gensler stated on September 30 and October 5 respectively that they do not intend to ban cryptocurrency. This gave a new impetus to the cryptocurrency industry and the institutional interests associated with it. Add to that Gensler's repeated support for a bitcoin futures-based index ETF and his recent comments that bitcoin can be considered a "store of value," and the sentiment is positive. The world's most influential regulator seems to be slowly opening up to cryptocurrency.
The Securities and Exchange Commission (SEC) has had difficulty approving Bitcoin ETFs backed by physical bitcoin. That's because a lot of the underlying trading takes place on unregulated exchanges. An alternative is a futures-based ETF through a regulated exchange such as the Chicago Mercantile Exchange. While this removes market monitoring concerns, products based on futures contracts are often inferior to those based on the spot market. A number of bitcoin futures ETFs have been filed with the Securities and Exchange Commission recently, and Two have already been approved. This green light was especially important to institutional investors concerned about regulatory pressures on Bitcoin.
2. Adoption
Both proponents and critics have recently compared Bitcoin to the Internet in 1997. Bitcoin grew at an annual rate of 113% compared to the Internet's 63% growth at the time. If bitcoin adoption slows to internet levels, it will still result in 1 billion users by 2024 and 4 billion users by 2030. Given that institutions like Visa, Mastercard, Paypal, BNY Mellon, Morgan Stanley, Goldman Sachs, and JP Morgan, for example Not limited to, has changed its position on bitcoin, it is very unlikely.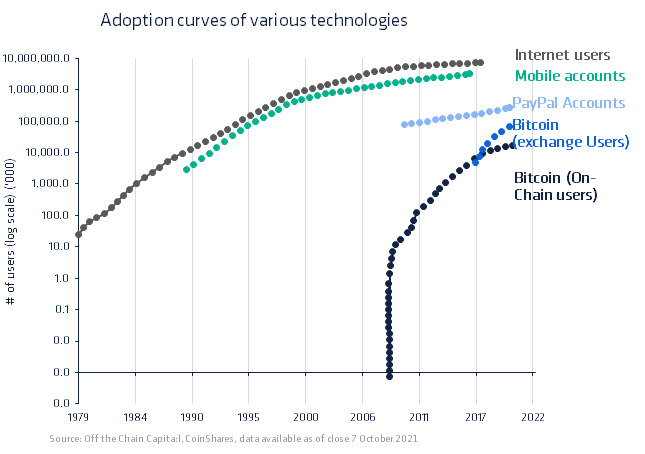 On September 8, 2021, El Salvador became the first country to adopt Bitcoin as legal tender. And as the flood of news since then suggests, it certainly won't be the last. It is estimated that more than 50% of the population now uses the government's Chivo cryptocurrency wallet, while only about 30% have a bank account.
"Banking services for non-banks"
According to a recent World Bank report, about 1.7 billion people do not have access to a bank account, but 1.1 billion of them have a mobile phone. It has long been claimed that cryptocurrencies can offer a solution to the banking needs of the unbanked. The World Bank also reported in 2018 that the total global remittance market grew to $689 billion, including $528 billion to developing countries. In addition to the free Chivo ATMs in El Salvador, 50 free ATMs are now installed across the United States, where approximately 2.3 million people of Salvadoran descent live and work.
It is estimated that Salvadorans currently spend around $400 million annually in referral fees. As new ATMs allow individuals to send fast, fee-free payments across borders, we may be witnessing the first case study of blockchain technology powering an outdated and often expensive financial system. Ukraine has also announced plans to legalize bitcoin and cryptocurrencies. With Cuba, Brazil and Paraguay all throwing their hats into the ring, the number of dominoes that fall will be even more important in the fourth quarter and beyond.
A well-established component of traditional wallets
From an institutional investor perspective, our latest survey, with $400 billion in assets under management (AuM), shows increasing participation from institutional investors. The average portfolio weight of digital assets is now 1.1% of assets under management, although this percentage varies greatly depending on the type of institutional investor.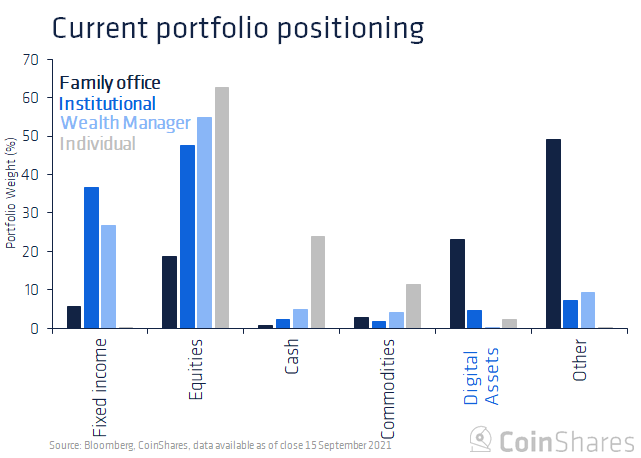 Regulation (21%) was cited as the main reason for not investing by those survey respondents who said they had not invested. Firm limitations are closely related to this (19%). As that volatility It remains a major concern for investors. Fortunately, very few respondents believe that digital assets lack the basics.
3. The macro environment
Signs of a potential inflation problem are emerging, most notably the tightening of employment conditions (and the consequent rise in wages) combined with rising global producer and commodity prices. However, investors remain divided, as inflation expectations move in two directions: those who believe the effects of inflation will be temporary in nature and those who see inflation rising to a point where it threatens economic stability.
Conceptually, it makes sense for bitcoin to be a hedge against inflation. It is what economists call a "true asset" – an asset with a limited and predictable supply, often priced in US dollars. So if the supply of US dollars or any other fiat currency increases, the value of bitcoin will likely rise against those currencies even if their purchasing power is stagnant.
The link between bitcoin and inflation
Data indicates that bitcoin It begins to act as a hedge against inflation. Looking at price changes related to inflation changes over the two years since its inception in 2009, it is clear that the relationship is improving – with a current R2 of 0.26 (since 2019). By the way, the relationship between bitcoin and inflation is currently better than the relationship between inflation and gold.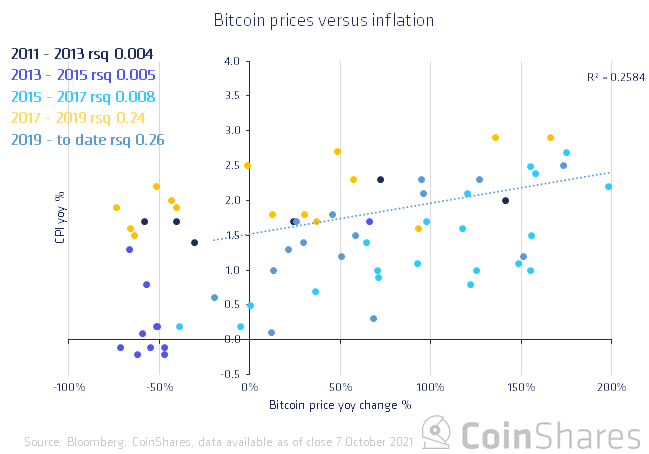 High inflation remains a real risk given higher energy prices, increased retirement among baby boomers and increased risks of wage increases. However, we do not know exactly how inflation will develop over the next five years. As such, we believe adding Bitcoin and other real-world assets is a prudent move to protect portfolios from the tail risks of hyperinflation.
Digital gold replaces the physical version
We've written extensively about Bitcoin valuation, but it's worth reconsidering our approach to the addressable mass market. Shared fund inflows indicate that bitcoin is starting to cannibalize gold's market share. Bitcoin currently commands 9.1% of the gold market share.

Gary Gensler, Chairman of the Securities and Exchange Commission (SEC), recently acknowledged that bitcoin is now a "store of value that people want to invest in, just as some might invest in gold." This confirms its identity as a tangible asset. With inflationary threats likely to mount in the near future, it is not unreasonable for Bitcoin to reach $100,000. This would only represent 17% of the market value of gold.
Towards the end of the year, it became clear that there were a number of events that could potentially drive up prices. For example, increasing regulatory clarity, rising inflation risks, growing dependence and growing investor appetite – these factors point to greater participation of institutional investors in this asset class.