Investors have spent the past ten years pursuing unprecedented levels of quantitative easing (QE) expecting inflation to kick in. But this was never the case. A look at the Fed's recent change of direction as well as the market's reaction, especially for real assets like bitcoin.
Perhaps one of the most plausible explanations for the inflation observed today is that transfer mechanisms have not worked as expected, as quantitative easing has often been used in unproductive ways, with companies using low bond yields to buy back shares rather than growth initiatives. It took a global health crisis (COVID) to expose the fragile global logistics network and reveal massive supply shortfalls that helped drive inflation to levels not seen in the United States since June 1982.
Bitcoin's sensitivity to the Fed's action
we have im Final FOMC Minutes We have seen that the US Federal Reserve is increasingly concerned about the risk of inflation in the US: this leads them to consider ending the QE (tapers) program earlier than the markets expected. At the same time, four rate hikes are being considered in 2022, rather than just twice as expected some six months ago. This time it seems that the US Federal Reserve may end tapering and start raising interest rates again as it started in 2015.
What will happen to Bitcoin in an environment of rising interest rates? Bitcoin is up 51% 6 months after the first rate hike in 2015, but we think bitcoin has matured exponentially since then, so it's likely changed and changed. Consistent with other real (inflationary) assets or property. Therefore, analyzing how other assets have behaved in the real world in previous price hike cycles can give us an idea of ​​how Bitcoin will behave.
Anatomy of price hikes
While each historical rally is somewhat different, there are some similarities. To best represent today's scenario, we have identified five of the nine possible periods of Bretton Woods price hike cycles. The periods in December 1976, December 1986, February 1994, June 2004 and 2015 are closest to today's scenario in that they are periods when interest rates were either low or were relatively low for an extended period of time. Encouragingly, the analysis shows surprising consistency across each of the five observed periods.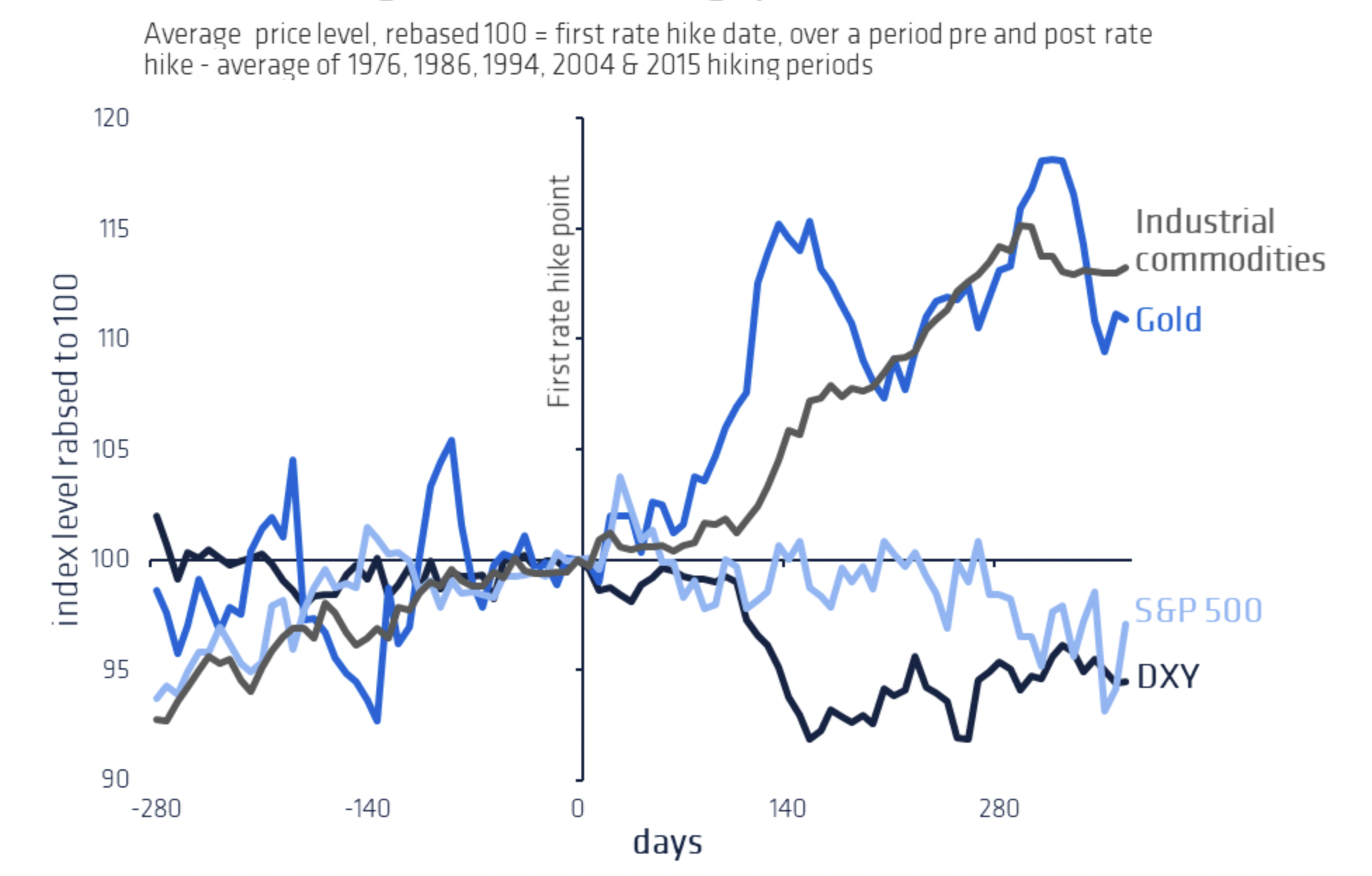 Gold is an example of mixed performance: in 1976, 1986, and 2004, prices rose by 22%, 25%, and 11%, respectively, while they fell by 2.6% in 1994, a year after the first rate hike. Inflation may have caused prices to rise in 1976 and 1986, but not in 2004, when inflation was under control. One of the main factors in 1994 was the rise in real interest rates by 3% while they were flat or negative in other periods, confirming that the rise in real interest rates tends to be negative for gold. Industrial commodities, another real asset, tend to behave in a similar manner during rate hike cycles. Technically, the S&P 500 initially tends to rise but then begins to decline, potentially hurting corporate profitability by tightening credit conditions.
Before interest rates were raised, the US dollar tended to stay flat or rally, but after that it was volatile anyway, down an average of 7% over the past year. This fact may seem counterintuitive because a tightening of the money supply means that there are fewer dollars in circulation. We believe the most likely explanation is that markets tend to fully price in the prospect of a stronger economy and improved jobs before this event occurs. The US dollar appears to be behaving similarly: Since November 2021, the US dollar has appreciated against a wide range of currencies, while Bitcoin, which is inversely traded to the US dollar, has seen a sell-off.
The Fed is lagging behind – which increases the risk of monetary policy going wrong
Monetary policy must be proactive, and since inflation is a lagging indicator of the state of the economy, one could argue that the Fed is already lagging behind. It is important to remember that monetary policy affects the economy with a one- to two-year lag, so a price hike starting today is unlikely to have an immediate effect.
The liquidity created by quantitative easing and the exceptionally low interest rates posed a major challenge to the Federal Reserve. As quantitative easing (QE) is phased out and interest rates start to rise, so does the risk of a disorderly correction in the stock and bond markets that relied heavily on this stimulus and have been pushed to record levels. On the one hand, the Fed has a mandate to control inflation, but on the other hand, it also has a mandate to ensure price stability. So it's very hard to see how the Fed can control both currently.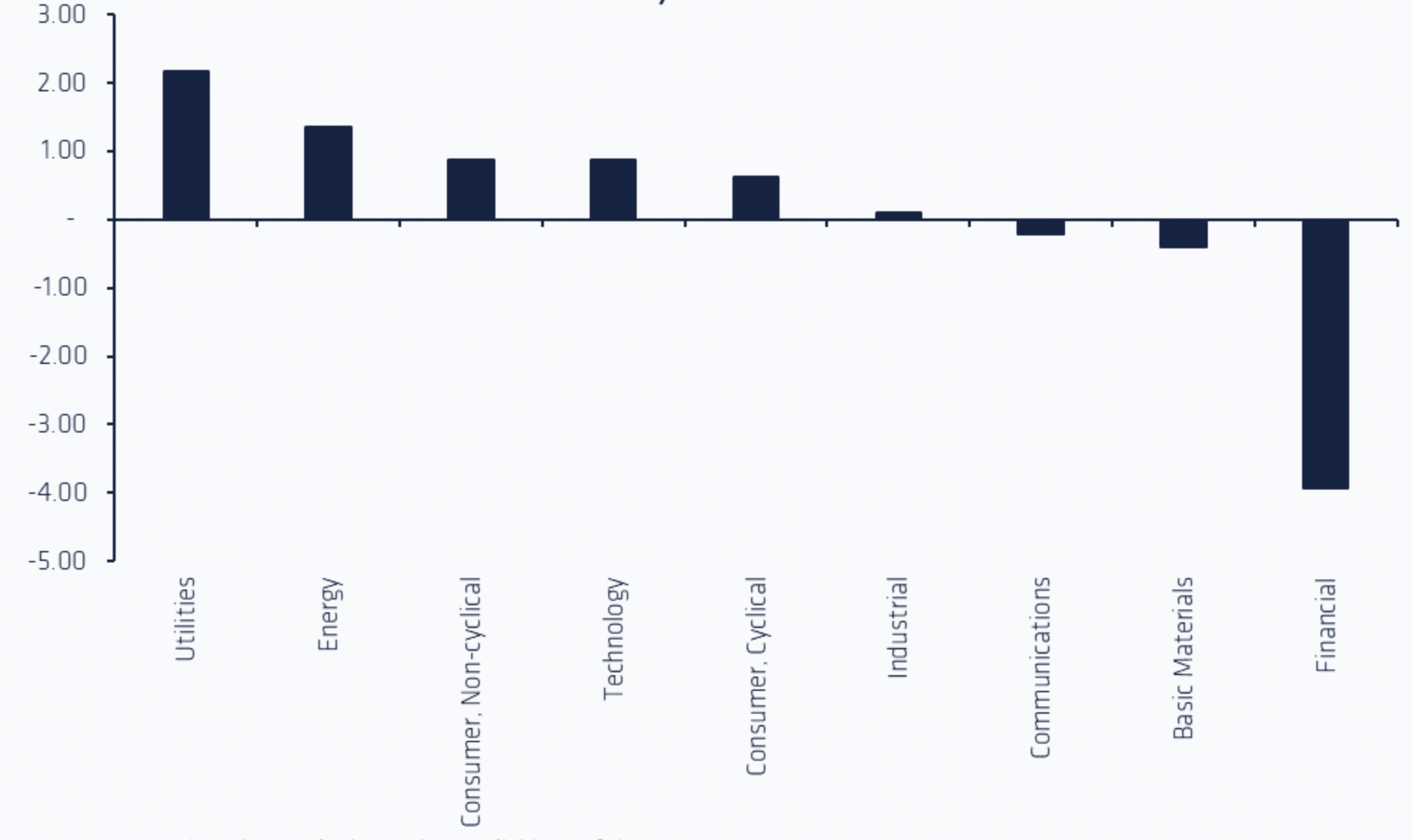 The Fed's firepower (the amount by which interest rates can be raised) must also be factored in, and on the face of it, household debt service rates appear to be in good shape, with 9.1% of household debt on average going into debt service, which is the lowest case since the records began. Corporate debt also looks good, with a net debt-to-EBITDA ratio of 1.3 years versus the long-term average of 1.7 years. This indicates that the Federal Reserve has ample chances to raise interest rates before it affects the economy.
Real assets are likely to benefit
However, there are some sectors of the economy where the net debt-to-EBITDA ratio is not looking so good, notably utilities, energy, and healthcare, which are in worse shape today than they were before the 2008 financial crisis. The net debt-to-EBITDA ratio is in the technology sector while it is higher. than it has been since 1998, it is still lower compared to other sectors. An unintended consequence of excessively raising interest rates could be an increase in defaults and unemployment in these key sectors of the economy, leading to social unrest and increased political instability.
We believe that Bitcoin is likely to behave similarly to gold and other assets in the real world as it is priced in US dollars and there is a fixed supply. We've already seen in December 2021 and January this year that bitcoin is extremely sensitive to looming price hikes, crashing more than 40% from its highs in what we believe is a reaction to inflation and a growing likelihood of many more price hikes in 2022. Long term The long term, we see a significant risk of the Fed making a policy mistake (waiting too long and then raising interest rates too hard) and then selling the US dollar, both of which are likely to support Bitcoin and other real assets.