Everyone's talking about it – Crypto Valley. The origins lie in the canton of Zug. A small canton known for tradition and innovation. A powerful financial center that charms with its lake and views of the Swiss mountains. And exactly? The pedestrians who are accidentally stopped at the Zug train station are a bit embarrassed, since they didn't visit Crypto Valley themselves. Believes?
There is no banner that helps in the search, the only thing that can be found is the possibility of buying Bitcoin at the ticket machine of the SBB (Swiss Federal Railways). If it isn't a place, what is it? And what does that mean for the actors? The answers are obvious, or better: in a good cup of coffee. Many interviewees from management, education, and legal services talk about their definition of Crypto Valley, its origin, and its significance.
"centered ecosystem"
For Alberto Diaz (Vice President of the Zug Economic Contact Point responsible for the blockchain), Crypto Valley is a "focused ecosystem focused on blockchain technologies". Formerly a pioneer, Alberto Diaz now sees Crypto Valley as "one of the world's leading and densest clusters of blockchain and cryptocurrency companies." It all started in 2014/15 when a delegation of about 20 well-known advocates, including representatives of the Ethereum Foundation, visited Zug. After careful assessment of the site, the Foundation settled in Zug. Then the Ethereum protocol was written here. The foundation initially formed a small community, but the site has attracted attention.
Other use cases, layers, and protocols have emerged in this rapidly growing ecosystem. Critical success factors for the settlement were the proximity and openness of municipal and cantonal administration, legal certainty, democratic form of government, and a generally business-friendly environment. The authorities played together and saw themselves as enablers. Trade registry, tax office, city administration – everyone got together. However, the credit is not only for the city or the canton of Zug, where the distances are short and, according to Alberto Diaz, the "little thing" makes working together and getting close to each other very easy.
Diego Benz (Partner, Solicitor and Notary I Kaiser Odermatt & Partner AG) agrees. Without the whole government and its agencies opening up, such as FINMA (Swiss Financial Market Authority), this "success story" as described by Prof. Dr. Tim Weingärtner (University of Applied Sciences Lucerne, HSLU) stated that he was unable to write. Diego Benz adds that it is the exchange at eye level that allows business to flourish. This also proves it Drakkensberg Projectwhich he remembers fondly.
This is the method used by Professor Dr. Tim Weingärtner emphasizes the importance of this exchange while at the same time creating a platform that promotes and challenges it to its core. According to Weingärtner, the multidisciplinary industry especially benefits from the fact that it can find everything it needs: legal professionals, business developers, IT professionals. The resulting ecosystem grows through trust, which is built through ethical behaviour. But Crypto Valley is also a strong brand, and all involved should be aware of its responsibility. HSLU's role is in training and further education with offerings tailored to the needs of the industry. Briefly: Professor Dr. Tim Weingartner "Society". And as far as the aforementioned "brand" is concerned, care was taken during its creation. "Zug" is intentionally not part of its name.
Zug as the center of the cryptocurrency stronghold
Return to the city of Zug. Genuine interest is often difficult to recognize. Not so on the train. Since the beginning it has been innovative and some pioneering projects have been undertaken. Since July 1, 2016, city fees of up to CHF 200 can be paid at a counter resident control Pay in Bitcoin. A little over a year later, on November 15, 2017, the residents of Zug got their hands on digital identity Available, which is application-based and runs on the Ethereum blockchain.
And what do users do with it? Of course vote. Switzerland's direct democracy requires the participation of its citizens, and voting processes are simply part of it. Since June 25, 2018, voters in the city of Zug have been able to do so via blockchain Electronic voting system Do it – with your digital ID. For all the innovation, Zug's latest coup relies heavily on tradition. Zug cultivates a culture of cherries, which has been proven for 600 years. This includes a comprehensive tradition that, in addition to "Chriesimärt", also includes "Crysstorm"And of course it cultivates a cherry-and-cherry-cake culture. So what could be more telling than an NFT of 500 unique combinations?"Cherry Crypro"?
Outside the city limits, taxpayers can Zug canton They also pay their taxes with Bitcoin since 2021.
It was published recently and who CVVC AG published"Swiss Digital Wealth and Asset Management Report 2021It very clearly shows how the Crypto Valley — across Switzerland — managed to evolve into what it is today: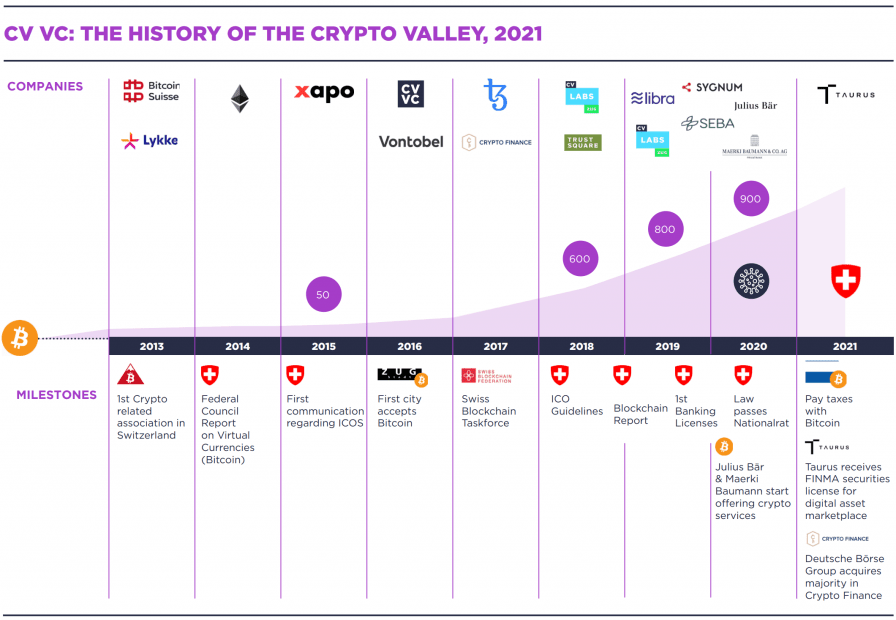 Crypto Valley was born in Zug, and continues to grow rapidly, beyond the cantonal borders to Zurich and Lugano and not forgetting Liechtenstein, where TVTG ("Blockchain Law") entered into force on January 1, 2020 as one of the most comprehensive laws in the DLT/Blockchain field but Crypto Valley It is no longer just a train. For everyone we talk to, today it's both Switzerland and Liechtenstein, that's two countries and four languages.
future prospects for the region
And the other side of the coin? Of course, looking back, there are always ways to improve something, everyone agrees. If opportunities are taken, it also calls out players who do not pursue ethical intentions. These cases are well known. Instead of criticism, Alberto Diaz names the challenges that the ecosystem is currently experiencing. This shows that the aforementioned "small size" also has disadvantages in addition to the many advantages: specialists are desperately needed, demand can hardly be met despite excellent training opportunities (HSLU, ETH, University of Zurich and many more), immigration processes can often be cumbersome You are vainly searching for an affordable living space.
And what about the future? How does Crypto Valley stay at the top? exchange! Roundtables are held to capture the needs and weaknesses of all local businesses. The interesting discovery of these roundtables is that blockchain companies have the same problem as other companies. In the course of these round tables, questions about the future are also raised and addressed.
The passion, which was omnipresent in the talks, will bring this community forward, Diego Benz calls: "It's the most swinging ecosystem, come check it out."
Want to buy Polygon (Matic)?
This is possible via eToro, among others. eToro offers investors, from beginners to experts, a comprehensive crypto trading experience on a powerful yet easy-to-use platform. We took a closer look at eToro.
The latest issue of BTC-ECHO Magazine
You may also be interested in this