The son who never stopped chasing his dreams. A brother always strives for the best for his family and community. Incomparable world. Perfect guest. This is how friends, family and colleagues describe the Mexican scientist Hector Alejandro Cabrera Fuentes, accused of spying in the United States. After spending the past two years in a Florida prison, the case against the biologist is nearing final cases and he will be sentenced next Tuesday. Judicial documents obtained by EL PAÍS anticipate a four-year prison sentence, after his lawyers and the attorney general's office reached a plea agreement last February in exchange for a reduced sentence.
"The career of Dr. Cabrera, a world-renowned biochemist and cardiovascular researcher, is only transcended by his charitable work in support of his people in Oaxaca, Mexico," the beginning of a document signed by his defense reads. The sentencing memorandum is a document submitted before the accused faces his sentence, and it is a last request for pardon approved by people close to him before the judge issues his ruling. "Despite his accomplishments, he acknowledges that he has committed a crime for which he will be judged, and has already paid for it, and he hopes that this court will accept his remorse and impose on him a fair sentence," his lawyers added before submitting 11 letters. To defend your client's case.
The Cabrera Fuentes case has spread all over the world for episodes that could be part of a fairy tale. A promising young scientist in Mexico saw his career take a dramatic turn after he was arrested by FBI agents at Miami airport in February 2020 as he was about to board a flight to Mexico. During interrogation, the academic admitted that he received pressure from the Russian intelligence service to follow the American intelligence agent and take pictures of his car's license plate.
The investigation revealed that Cabrera Fuentes lived a double life: he was married to a Mexican woman and secretly married to a Russian citizen. The scientist's Russian family lived in Germany, but his wife and two daughters returned to resolve immigration and administrative procedures. After that they could not leave their country of origin, he read in the FBI report. According to Cabrera Fuentes himself, a Russian secret agent approached him and promised to "help each other": if he accepted the mission and received information about the American target, he could speed up the departure of his relatives from Russian lands . Between a rock and a hard place, the scientist agreed to the deal, but he was caught by US authorities and has been in prison ever since.
In a full-blown conflict between the great powers, the case appears to have been taken from a book about the Cold War. But the sentencing note, filed just a few hours ago, paints a very different version of the life of Cabrera Fuentes, who was born 37 years ago in El Espinal, a town of 10,000 people in Oaxaca, Mexico's second-poorest state. His mother Lucilla Fuentes recalls that before falling in love with biology, Hector Alejandro dreamed of being a baseball player and playing balls in the garden at home. "He continued to study hard in high school and got a scholarship to continue studying abroad," he says. "I ask God that you continue to fly and chase what you love, and that you continue to contribute your knowledge to humanity," Fuentes asks.
"I remember I was in fourth grade when my brother left home to study abroad," Alexis Cabrera Fuentes says. The aspiring scientist at that time arrived in 2004 in Voronezh, an industrial city in central Russia, without knowing a single word of the Russian language and at a time when attacks on foreigners were frequent. He was even attacked once. A year later, he traveled more than 1,000 km to the northeast, although still in Russian lands, and settled in Kazan where he studied for his bachelor's degree and eventually received the award for best master's thesis from then-President Dmitry Medvedev. "He overcame his fears, and wrote to us telling us he was working in a Latin restaurant as a chef to be able to make ends meet," his sister says.
His father, Hector Cabrera, wrote: "We have always been, and will always be, proud." He concludes, "I sincerely hope that this letter will give you an idea of ​​his good heart, that he is an honorable person, a valuable member of his community, a good person and an excellent son." The maximum sentence he can receive for "acting as a foreign agent" in the United States is 10 years, although it is an unlikely sentence following the agreement reached by the prosecution and defense.
Cabrera Fuentes continues to be a hero in El Espinal: a man who made himself and gave everything for his people. At the same time that accusations of espionage in the United States were exposed, the community turned to his support, with many conspiracy theories even being published to justify his arrest: Was it created? Was he captured by any of his discoveries as a scientist? None of these theories entered into the memoranda submitted to the judge. But there are the legends of Hector, who created the Foundation for Young Scientists, who designed anti-seismic homes when an 8-magnitude earthquake shook Oaxaca, the one who paid for the foreign tours of a student music group. "He always had the right words to make you feel like you could do anything you set your mind to," says student Yamelith Toledo.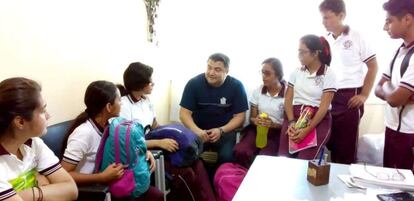 Members of the scientific community, accused by the Spina residents of having turned their backs on Cabrera Fuentes, also sent letters of support. "I met him frequently in Singapore, Germany, South Korea, Indonesia, the United States, Russia, and Mexico, where he was dean of the Tech de Monterrey," says Victor Cerebroani, MD, professor of medicine at Johns Hopkins University. "He's a natural leader, but he trusts people a lot," says Sirebruani, "whose international exposure obviously made him vulnerable to being taken advantage of and used by bad guys."
"He is universally loved by all the scholars he comes into contact with," says William Boisvert of the University of Hawaii, highlighting his career at the University of Singapore, where he earned a place in just three years. " Unprecedented." "Despite his current situation, I look forward to the doctor, a very talented and trusted researcher, being able to resume his personal and professional life as quickly as possible," says Klaus Pressner, academic at the University of Giessen (Germany). Where the scientist received his Ph.D. says physicist Luis Roberto Flores of the Chinese University of Hong Kong.
Little is known about Cabrera Fuentes' prison life, but the documents provide some details. "Fantastic" is how the guards described the work he did cleaning and painting the prison unit. "He gives 100% all the time" and "gets along well with his co-workers" are other comments from his supervisor. As a prisoner he worked 90 hours in maintenance and earned 10 dollars and 80 cents. His lawyers note that "Dr. Cabrera is a proud father of four, whom he has not seen since his imprisonment because they do not reside in the country," and remains extremely close to his parents, sisters and children through conversations. phone and [envía] Limited financial support for their children and mothers.
Cabrera Fuentes' plot transcended historical events such as the COVID-19 epidemic, which broke out two weeks after his arrest and delayed the resolution of his case, or the Russian invasion of Ukraine, which was launched in the same month in He. He pleaded guilty to avoid going to trial. After a botched spy mission, an unexpected arrest, a media scandal, statements by local politicians, revelations about a double life, protests and conspiracy theories in his town, comes a final plea for mercy. The next chapter of the story is set for June 21, when a sentence is expected.
Subscribe here to me the news From EL PAÍS Mexico and receive all the informative keys to the news of this country