Rafael Angel Castro Jimenez and Javier de Diego Adelinho.
patient with major depression It is usually first detected in primary care and, according to the current model, is subsequently referred to mental health services. However, doctors want "Remove" this structure Adhering to a joint approach with psychiatric professionals ensures continuity of care for the patient.
"This type of patient will enter through primary care, not through other sites. The patient is not for anyone, he belongs to everyone. Barriers have been created andWe have to destroy them." Rafael Angel Castro Jimenez, member of the SEMG Mental Health Group claims during the 28th National Congress of the Spanish Society of General and Family Physicians (SEMG).
The doctor is clear that it is necessary "Removal"The clinical practice of referring a patient to mental health and forgetting about it." This is not true. What is effective and appropriate is the common approach", Claims Castro Jimenez, who considers this to be greater when it comes to a patient who lives in a rural environment and is designed to go to the city. The doctor asks, "If I am the one providing the treatment, what is the use of paying him to go?"
Rafael Angel Castro Jimenez, member of the SEMG Mental Health Group and Javier de Diego Adelinho, psychiatrist and clinical researcher at Hospital de la Santa Cruz y Sant Pau.
Communication between psychiatry and family medicine
The solution to avoid these displacements passes through a Create "links" So that the patient benefits from cooperation without Make "differences and forget it". "When he has to go see the psychiatrist, he'll go, but we can't spend the whole day with him. Gather now you have and now I. When the patient is more serious, he should go, but if he is not, then the mental health approach can be given from primary school," claims Castro Jimenez.
These "links," as detailed by a member of the SEMG Mental Health group, go through a Telecommunication and consulting between Psychiatrist and family doctor. "What we need are quick responses to the problem that arises in consultation, not its referral," the specialist reveals.
A view shared by Javier de Diego Adelinho, psychiatrist and clinical researcher at Hospital de la Santa Cruz y Sant Pau: "I Convinced of the common approach. Often a call or a session about the problems we find in patients is the key so that they can be treated later in the best way."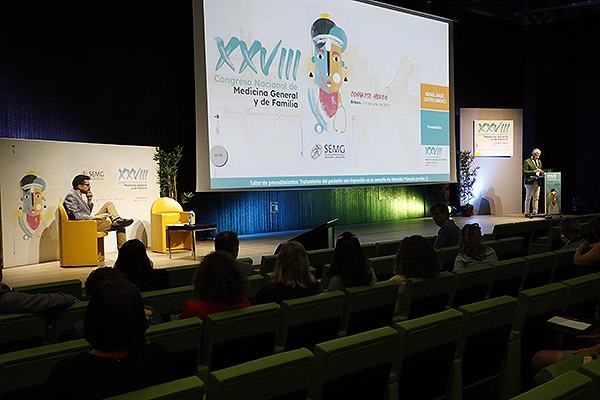 Side of the room during the table "Treatment in patients with depression in a primary care consultation".

How do you address the problem of lack of time for clinical interviews?
Castro Jimenez and Diego Adeleño also share the importance of the clinical interview, however, primary care conditions make it difficult to conduct in depth. "Is it The main problem we face in primary care," A family doctor who points out a possible solution reveals: "I think that can be corrected by giving a family doctor Settling into your stakes so you really know who are sick with who he is. If I knew him, I could play the role of investigator and it would be easier to spot the warning signs at the clinical interview. This means that it takes less time.
For Diego Adelinho, knowing the patient well has a "Priceless". "Often, by contacting the patient, you already know how things are going," the psychiatrist elaborates on, who also stresses that this is key to early diagnosis. "You have to be treated ASAP. If we do things early, we will have better response rates and symptom remission."
Although it may contain statements, statements, or notes from health institutions or professionals, the information in medical writing is edited and prepared by journalists. We recommend the reader to consult a health professional with any health-related questions.