A state restaurant in Pinar del Rio announced on Sunday a "variety offer" designed to "please" its customers. The post, which was shared on social media, went viral.
Pinar Del Río's gastronomy page reads: "Gastronomiapinar, UEB Perfected Super Goal serving PDL El Jazmín unit with a diverse offering to the residents of Pinar del Río."
In the photos accompanying the post you can see the dishes served. In one of them there is a pale crab with its shell in the middle, while its legs extend to the ends, alternating with slices of boiled banana. As a final detail, lay some garlic shallot leaves in different directions.
In another dish, three fish guarded with slices of cucumber are seen. Those same vegetables appear in large slices around what looks like ground beef in another preparation. A small pizza with pineapple and pasta mixed with pieces of cheese and something meaty complete the proposal.
'Different' dishes, different reactions
Despite the lack of elegance of such preparations, in the publication many users praise the dishes, assuring that they "look delicious." Some even inquire about the location of the restaurant. In response, Raúl Sanchez, better known as Llamazares in the capital of Pinar del Rio, was said to be in the neighbourhood.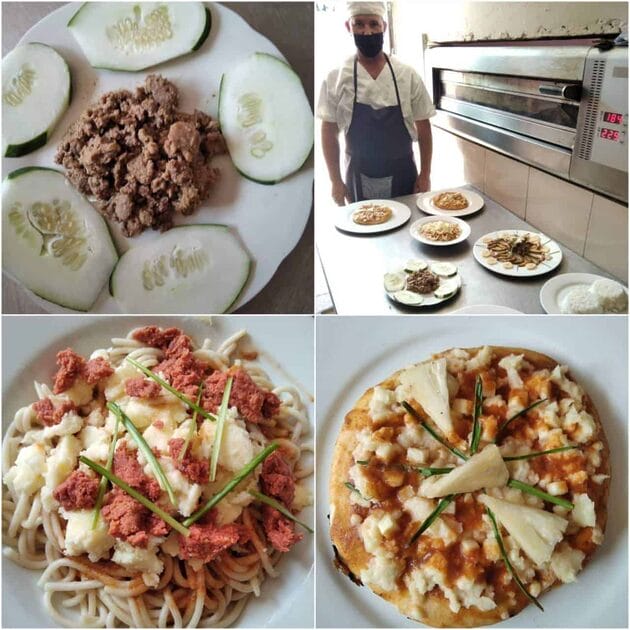 Famous journalist and art critic Frank Padron was deeply suspicious of the Facebook gastronomical post. "Respect yourselves," he asked, and recommended that they better study the art of gastronomy before making such proposals public.
Promotions for other country offers also appear on the above-mentioned page on the social network. These are the cases of Terrazina's pizzeria, with fried fish and yellow rice, and Coppelia's ice cream parlour, which used to only offer chocolate ice cream for sale. But its popularity does not exceed that of the unity of jasmine.