The Havanator Tour Group recently promoted the "ideal hotel for families" in Varadero.
In a Facebook post, they noted: "Havanatore Deals, Are you looking for an ideal family hotel in Varadero? We recommend this."
What is the facility? and he the hotel Ideal for families in VaraderoAccording to Havanator? How much does the hotel cost? Let's see the details.
They point to the Meliá chain's Paradisus Varadero hotel.
Havanator describes it as "an exclusive all-inclusive service that invites you to relax, accompanied by variety and great gastronomic services."
Melia's website states that it is a "luxury all-inclusive eco-resort with spa on the famous Varadero Beach and only 20 km from Juan Gualberto Gómez International Airport".
Likewise, it highlights the "superior comfort" of the rooms, all suites and junior suites, with views of the beach areas, gardens and pools, "plus options for families, swimming and two exclusive villas with garden."
How much is Baradero Varadero Hotel?
The image that accompanies the Havanator promo shows that the cost to book a room for two adults, from June 16 to 19, is COP 46,668.
According to the currency converter XEthis amount represents about 1798 euros or 1938 US dollars).
If the same reservation is made for two adults and two children (2 and 4 years old), the price will increase to 70,000 kopecks (about 2,915 US dollars or 2,678 euros). A scandal for any family who does not have foreign currency income in Cuba.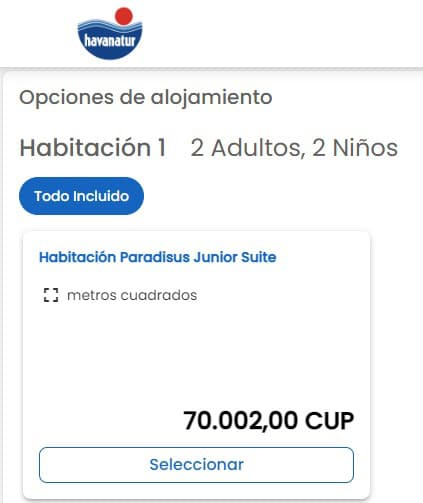 They stated on the Havanatore page itself: "First I need to rob the bank: 46 thousand for two, so the 6-year-old family, it is inevitable!".
Another important detail is that many customers disapprove of the fact that tourism agencies in Cuba offer hotels without transportation.
"I went to book on Friday and they still don't have transportation," said one user, referring to Havanator. "Gaviota already has it," he added.